XSite

Pro 2

Reviewed by dragonsheetm

Nov 24, 2008 at 01:08 PM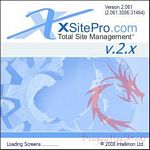 Running a website as a business takes a lot of time and effort. As Kris can attest, keeping DragonSteelMods.com tuned up and running proficiently takes a lot of work. Now to create and run a site, the user can either go with the cookie cutter programs designed for beginners that are generally limited in their scope or with something that is complicated with a lot of code to be manipulated. The other option is to pay someone to do the job.
Luckily, the folks at XSite Pro have released their second web design/editor program - XSite Pro 2. This program is a happy medium between the simple and complex web design programs in the market. It can be entirely template driven, allowing the user to avoid dealing with all the messy code that lies underneath. XSite Pro 2 creates the code from the user's input information and sets it for HTML output.
So let's take a closer look at XSite Pro 2. Let's get started…..
Reviewed by: Tomas Ratas
Tech Specs,Features or the Basic Info:
1GHz processor; 1GB RAM; Windows XP/Vista; 300MB hard-disk space, Internet Explorer 6.0 or higher
-RSS Feed Wizard - Add an RSS feed as content, select a feed, customize style, insert into page
-Insert streaming audio - Adds playback controls
-Insert video - converts to web format
-Widgets - Banner rotators, image gallery, popups, faqs. Print page, image rollovers, email cloaker
-Site Search - requires PHP, exclude pages from search
-Forms Wizard - Works with XMailPro, AWeber, Get Response, List Mail Pro, or standard email.
-Advertising - Amazon, Google Adsense, PayPal
-PayPal Advertising - Allows selling of digital products
-Mobile Site Generation - Make a whole new version of your site optimized for mobile devices.
-Siloing - Create a virtual or physical interlinked site structure
-Links Page - Auto loads data from web page
-XML Syndication - Create an RSS feed
Since this was a digital download, there is no packaging to describe. So let's jump ahead and look at the installation and testing section.
Installation, Testing and Comparison:
Installation is straight forward. The program will ask for the location of the installation and data directories. XSite Pro 2 takes up approximately 325 MB of hard drive space.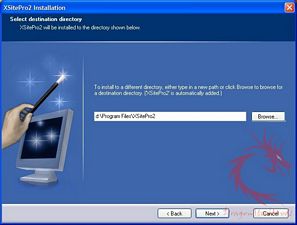 After the installation process finishes, the program asks to reboot Windows. Upon re-launching the program, you will need to enter a Registration Code which is authenticated online.
Now, XSite Pro 2 is ready for your first project. The main window has a toolbar with seven options including: File, Tools, Reports, Publish, Go To, Settings and Help. Below this toolbar is a set of Tabs which include: New Project, New Website, Save, Close, Cut, Copy, Paste, Affiliate Wizard, Google Adsense, Snippet Library, Report, View Live Website, Publish, Help and Exit.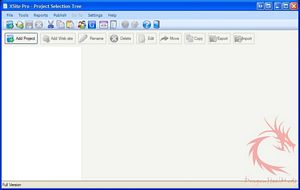 Finally, below these tabs, we find buttons for Add Project, Add Website, Rename, Delete, Edit, Move, Copy, Export and Import.
Now before you dive into using XSite Pro 2 I would strongly recommend you check out the tutorials on the website - http://www.xsitepro.com
To get going, you need to create a Project which is where the creation and management of your website occurs. XSite Pro 2 offers several hundred templates which are independent of the content, thus you can change templates at anytime and not lose your website's content.
Most all of the aspects in these templates can be fine tuned by the user at any point. From margin size to characteristics of dynamic menus, these are all user modifiable. The templates look professional, are CSS-capable and dynamic. Because of all the possible tweaks and modifications available, you don't have to worry about your website looking the same as some else's who used the same XSite Pro 2 template.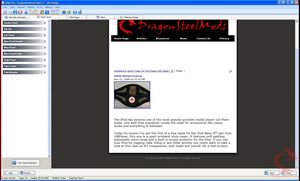 Compared to a program such as Dreamweaver, XSite Pro 2 may seem simplistic, but that is the point. This program is designed for someone with little to no website creation experience to be able to up and running quickly. Once you gain proficiency; then you can "go under the hood" and fine tune things.
Content can be added as easily as typing in a word processor. The large royalty free clip art library comes in handy for adding additional pictures and icons. Quick Pages is a wizard for several types of pre-formatted web pages such as contact info, forms, etc. RSS feeds can be imported or exported with XML syndication wizard. The Audio/Video Wizard can help set up embedded audio or video content of the website that you are creating.
For those looking to make some money, aren't we all? XSite Pro 2 lets the user insert Google Adsense ads, Amazon Affiliate Products and Oxado ads into your web page. If you are selling items, adding a Paypal Button is simple and will direct the customer to Paypal for payment and then back to your website.
Publishing is as simple as uploading via FTP. If you need to upload content onto your website at a particular time or date, then you can schedule pages for publishing. This allows you to keep your site fresh, without having to sit around and upload it yourself at the time you want new content. Automating your work, allows more time for you the user to address other things.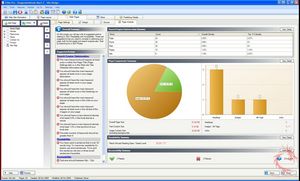 The program can be figured out by exploring, but if you want to jump in and get up and running quicker, definitely use the resources on the XSite Pro website.
Summary:
XSitePro 2.0 is really as simple or as complex as the user wishes it to be. There are templates, wizards and other tools that will make your web site functional and better than ones made with other tools.
If you have a website or are looking to start a new one, then XSitePro 2.0 is one of the best web design/editing programs available. This application allows the novice to create professional looking websites in a matter of minutes. XSitePro 2.0 handles all the scripting and html formatting so you the user don't have to. If you need to have a website up and running and don't have much experience in web creation, then XSitePro 2 is the program for you.